Our company offers also expert inspections, check and repairs of pressure, electrical and lifting classified technical equipment in the range of our authorisation (see certificates).
References:
REAKTORTEST s.r.o.
check of cableways installations at site of 3. and 4. block of the nuclear power plant in Mochovce
discordance identification of existing cableways in comparison with the requirements of project MO34 and reporting of actual state right on the spot
output reporting from the programme TRACEMAN, photo documentation of disagreements
SLOVENSKÉ ELEKTRÁRNE, a.s.

Technical support for assurance of inspections and tests during erection of MO34 in Mochovce
Supervision of customer´s inspection works during installation works following all erection and legislative requirements and EU standards.
monitoring, sampling inspections and verification of procedures implementation, methods, conditions, processes and condition of devices and services with the aim of guarantee the keeping of specific requirements
documentation control during the installation works such as the Technological procedure, Inspection and testing plan and Working permission from legislative demands point of view on the documentation completeness and correctness of process approval
works inspections in accordance with defined standards and demands on the staff qualification
fulfilment check of defined requirements for inspections according to the Inspection and testing plan and Technological procedure
supervision of inspections execution with the emphasis on fulfilment of the requirements and criteria defined by standards and legislative
fulfilment check of single steps of PKS, inclusive of protocols completeness check in ASSIK database
calibration certificates control of the measuring and checking devices
ŠKODA SLOVAKIA a.s.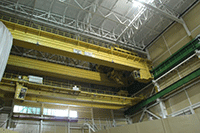 locksmith, electric and repair works
inspections and installations of lifting, electric classified technical equipment